Premium quality home appliances
Built in and freestanding solutions for your dream kitchen
Quality products for your living spaces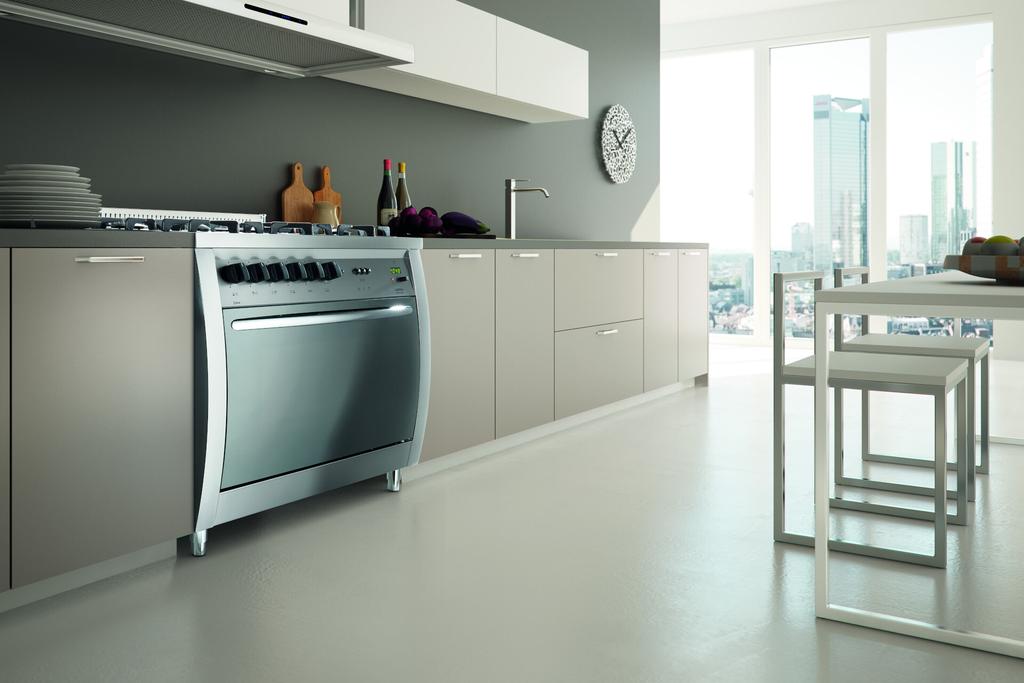 Lofra Curva

Lofra Curva free-standing cookers. All the creativity of the steel to give style and originality to your kitchen.

The true trademark of Lofra brand is the Curva line.

A unique patent that is historically connected to our company.

A new way of conceiving the kitchen by making it more modern and comfortable.
The exclusive design of Curva cookers is studied to give a futuristic look to your house, without forgetting the functionality and the high performances.

Stand out from the crowd and go for Curva.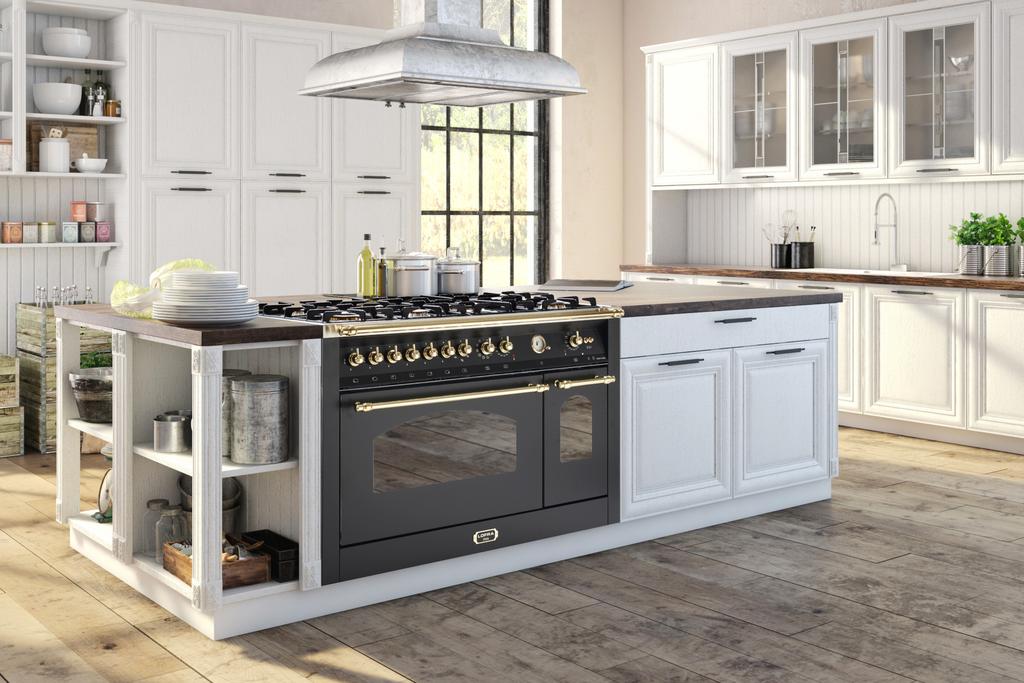 Lofra Dolcevita

Lofra Dolcevita free-standing cookers, hobs, ovens, combi microwave, range tops. Dolcevita is a tribute to over 60 years of production of range cookers: a classic and timeless style for your kitchen.

The classical style of Dolcevita line is what you can choose if you'd like your kitchen to be traditional in an elegant way but, at the same time, performing as the most modern and specialized cooking appliances.

The precious handles and knobs come from the fusion of the highest quality metals and the refined clock gives a touch of delicate country style to the cooker.

The result is Lofra's masterpiece.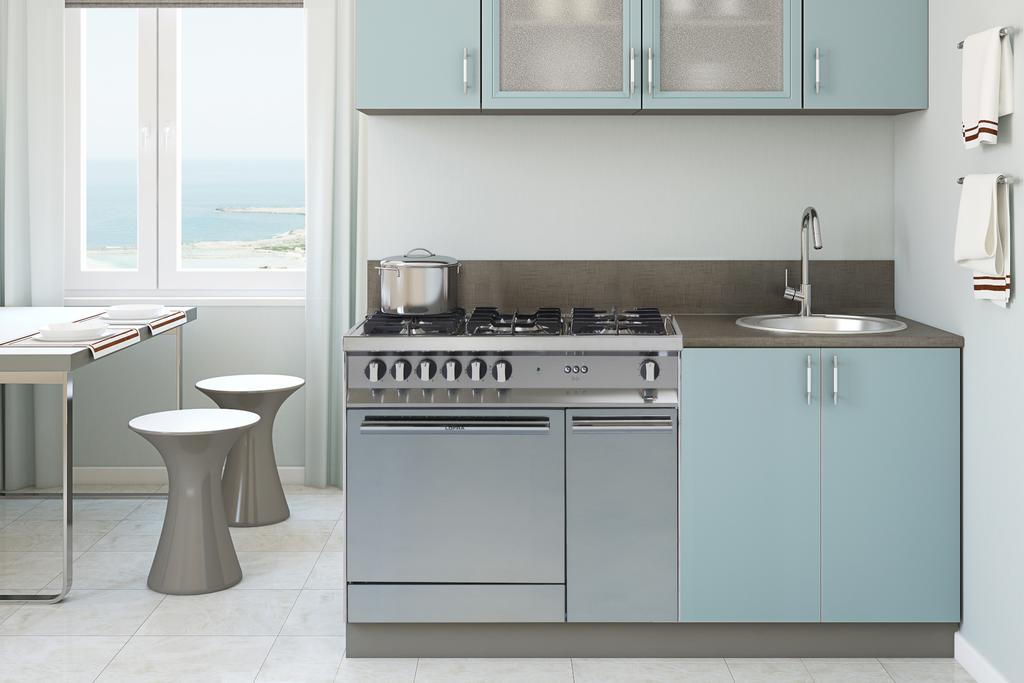 Lofra Maxima

Lofra Maxima free-standing cookers. This is the historical line of Lofra.

A line designed for the most demanding consumers.

A style that never goes out of fashion and fits perfectly to any type of home décor and furniture.

Maxima line is mainly represented by a mirror polished stainless steel cooktop, efficient burners and a wide versatility of widths and depths.

Three reasons to choose Maxima cookers?
Maximum quality, maximum resistance, maximum results!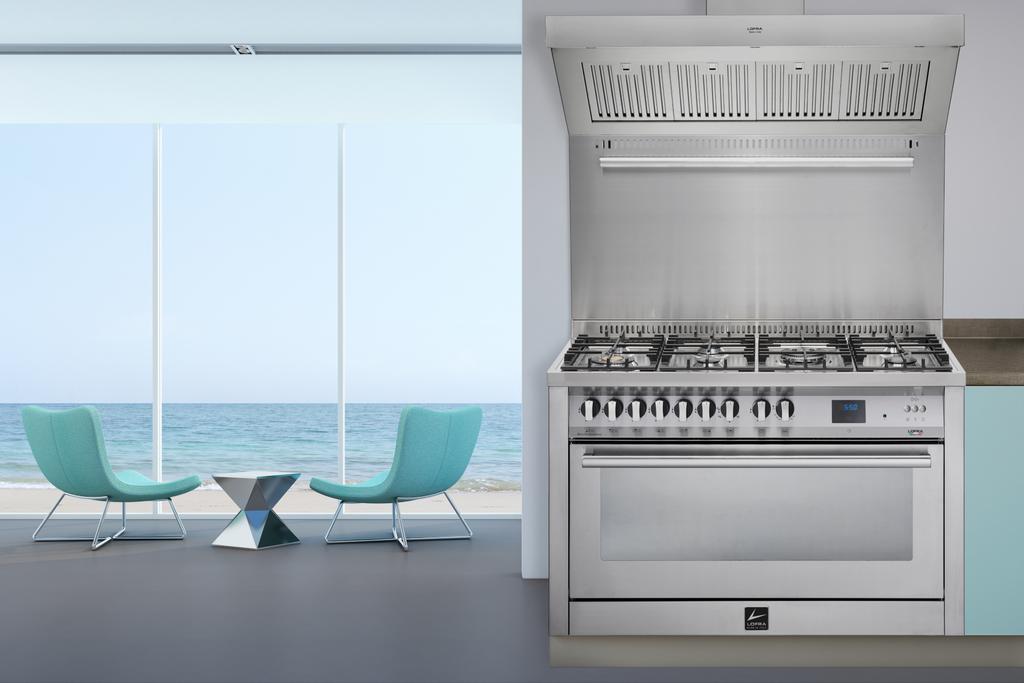 Lofra Professional

Lofra Professional free-standing cookers, hobs. The Professional line is an elegant and solid range of cookers designed to support the needs of cooking professionals.

If you want to be a real chef at your home, Professional cookers are exactly for you.

A line that includes a wide range of sizes and configurations, studied to satisfy all tastes and all needs. Do you prefer 1, 2 or 3 ovens plus a warming compartment?

Choose your favourite model: from 60 cm to 120 cm and different combinations of cooking hobs, such as total gas or gas + glass plate mix.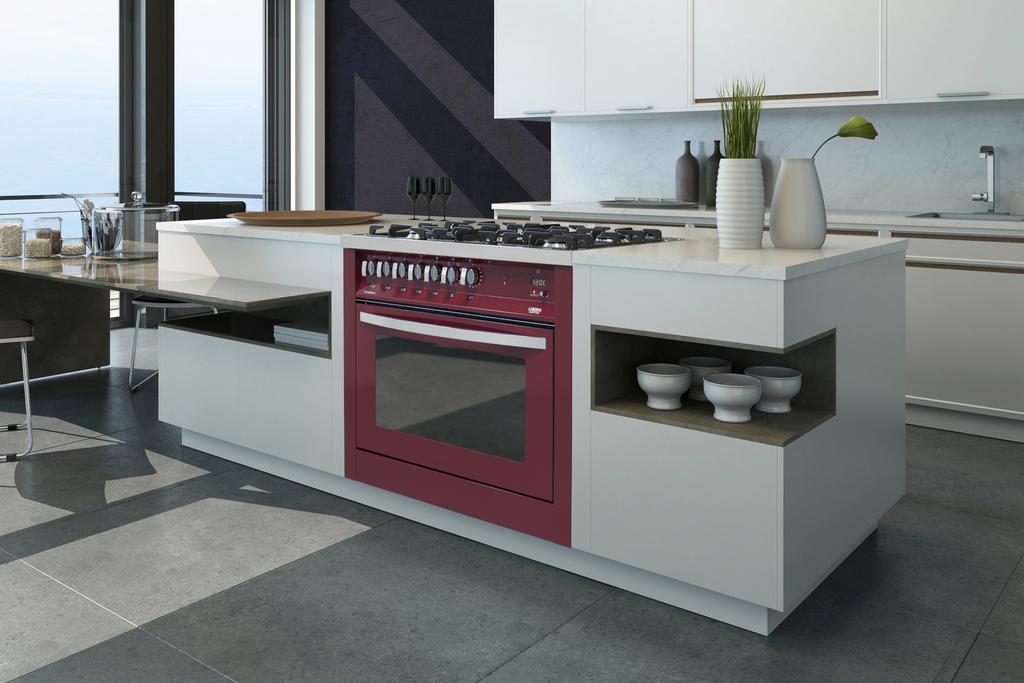 Lofra Rainbow

Lofra Rainbow free-standing cookers. Lofra adds colour to your kitchen and make room for your creativity.

This line of cookers features a special selection of colours, to give a touch of joy and energy to your kitchen and to brighten your everyday life at home.

Choose between our flamboyant red burgundy, the pure pearl white, the always fascinating black matt, the original ivory white or the elegant polished stainless steel.

Free your imagination and let yourself be inspired by Lofra's Rainbow.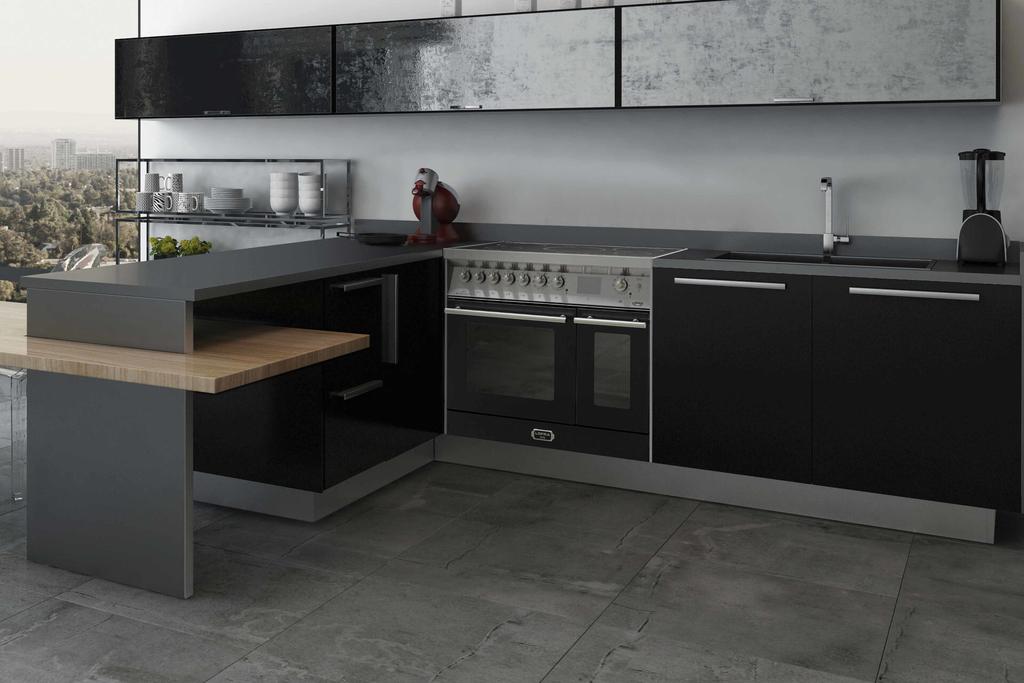 Lofra Venezia

Lofra Venezia free-standing cookers. Lofra Venezia line is focused on innovation, with its efficient brass burners, the latest technology of the induction cooktops and the big electronic digital programmer.

Furthermore the possibility of having 2 electric ovens equipped with rotisserie, blue enamel and cooling fan allows you to have a stylish but also performing product.

The perfect synthesis of innovation, functionality and space optimisation for your kitchen. In a 90 cm cooker.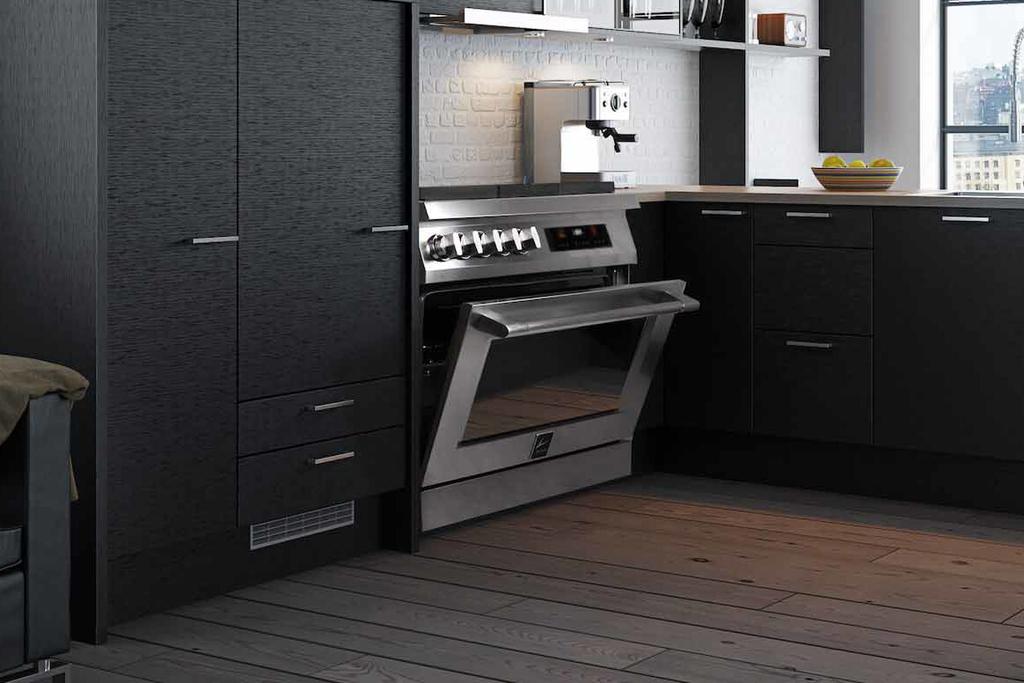 Lofra Italia

Lofra Italia free-standing cookers. You can feel the sturdiness of Lofra Italia cookers just looking at them: thick cast iron grids, powerful brass burners, robust knobs and handles, 2 fans.

These are just some of the features that mark these unique line.

If you add the possibility of customising these cookers with different colours and to cook a real Italian Pizza with a 130 liters oven getting to 300°C, the name Italia is easily explained: high quality of the components, attention to design, focus on food specialties.

This line totally expresses the Italian spirit and its strength at the maximum power.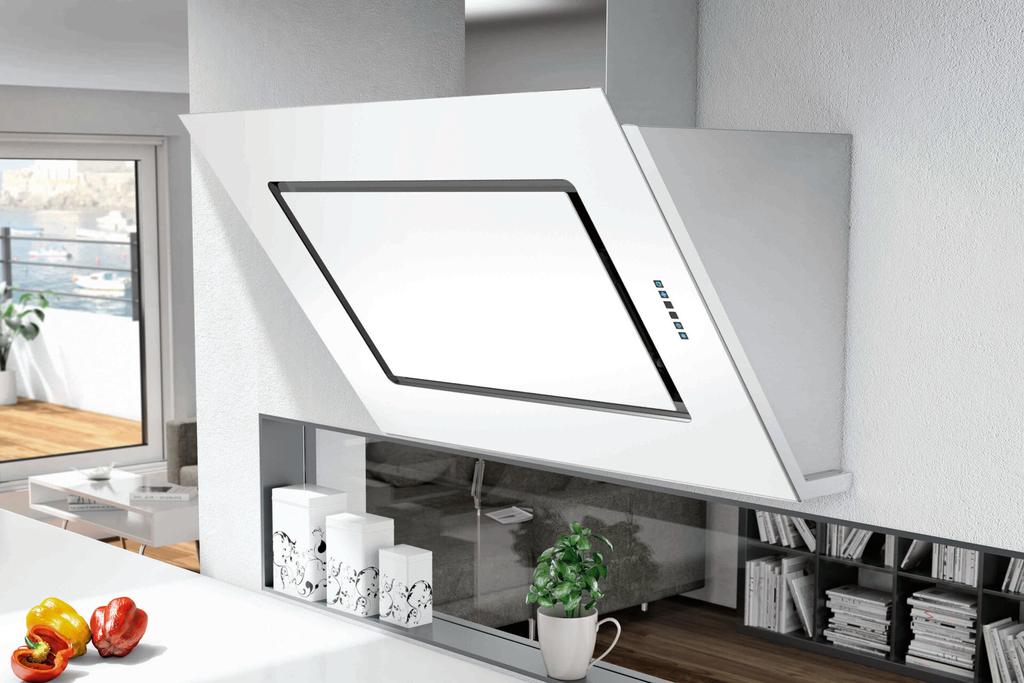 Lofra hoods

Lofra hods series Dolcevita, Gardenia, Elisir, Rainbow. Cook without worries. Your kitchen will smell good thanks to Lofra extractor hoods.

Lofra hoods extract the fumes and vapours that are generated during the cooking and pass them through metal grease filters to purify the air.

The powerful tangential motor, the activated carbon filters, the material used such as stainless steel and glass and the range of colours will allow you to have a functional and elegant hood that will match your other appliances.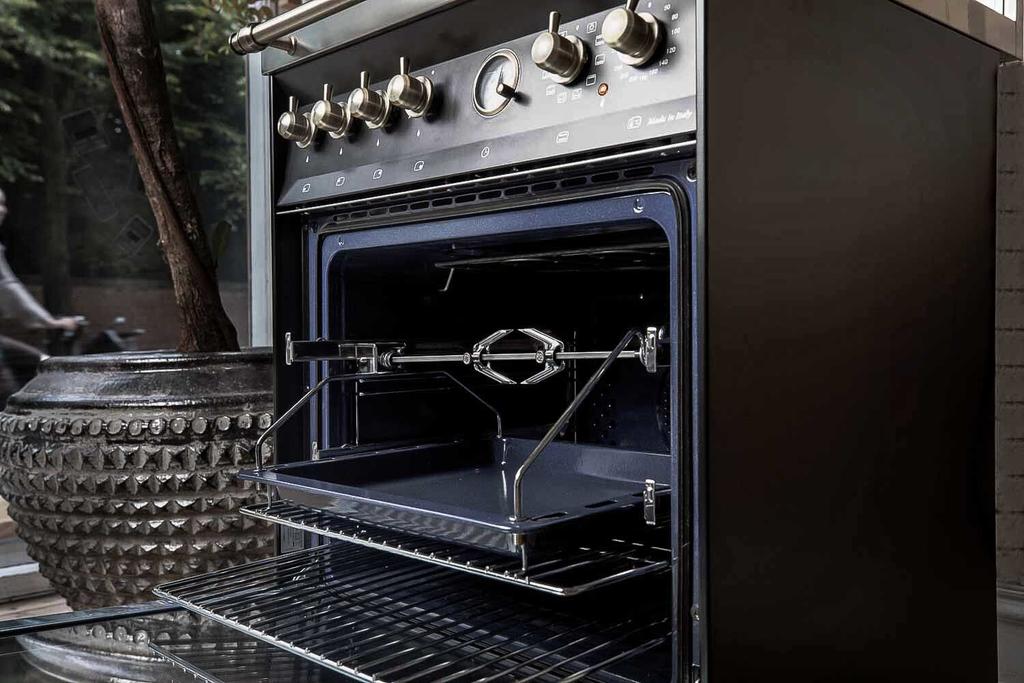 Lofra accessories

If you want to cook like a real chef, you cannot miss Lofra accessories designed to make you enjoy every dish to the fullest.

Prepare a real Cheese Pizza for your family with Lofra baking stone and the wooden peel or enjoy a great Burger dinner with your friends using Lofra cast iron fry top.

Otherwise prepare a breakfast toast for your children on the grilling grid or enjoy your chicken and potatoes with our rotisserie kit.

All our accessories exploit the technical specifications of Lofra products.

So feel free to choose your favourite meal and Lofra will help you to perfect your culinary experience.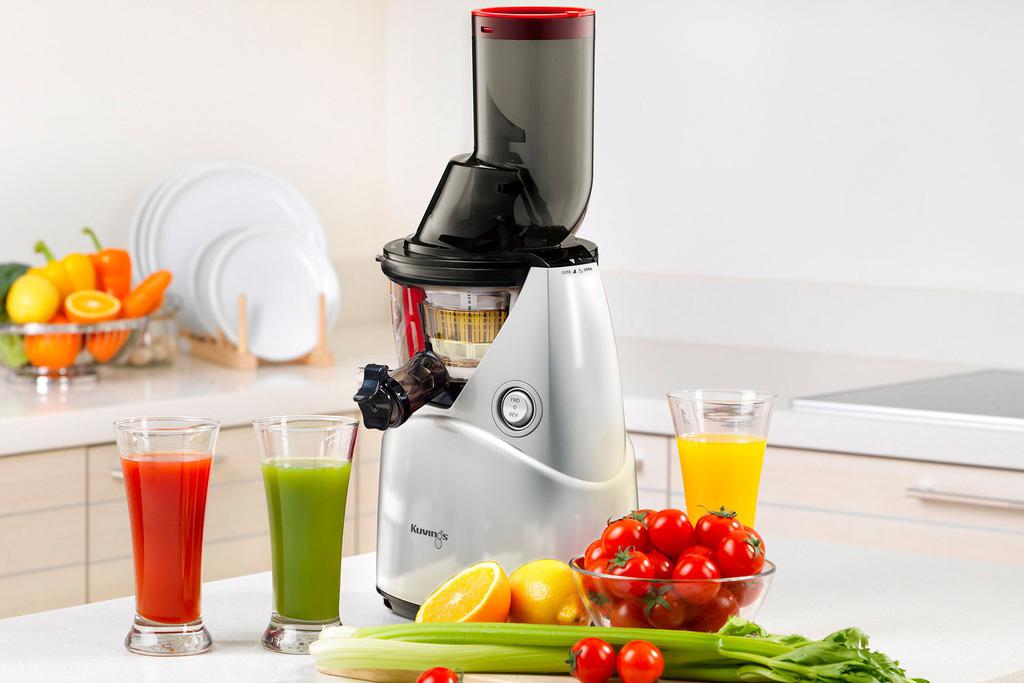 Small home appliances
Kuvings with a wide range of kitchen appliances, like the slow juicers, blenders, grinders, extractors, and more. It is always working on its goal of changing the kitchen experience with meaningful innovation in making better and functional kitchen appliances.
Kuvings is the first in the world to launch the wide mouth slow juicer that can accommodate whole fruits, thereby saving processing and preparation time by up to 40%. Whether for home or for commercial use, you can opt for a Kuvings Slow Juicer or a Kuvings cold press juicer if great results with highest efficiency is your requirement.
Juices from whole fruits not only offer great taste but also are dense in nutritional values. Made with slow-rotating masticating technology, kuvings whole slow juicers are great for preparing 100% natural juices, smoothies, shakes and nut milks, with maximum nutrient and enzyme content retention. Made in a slim design, they are convenient even in small kitchen spaces. Featuring safety lock and smart caps for combining juices and preventing leaks, these juicers save you from the worry of messing up your kitchen.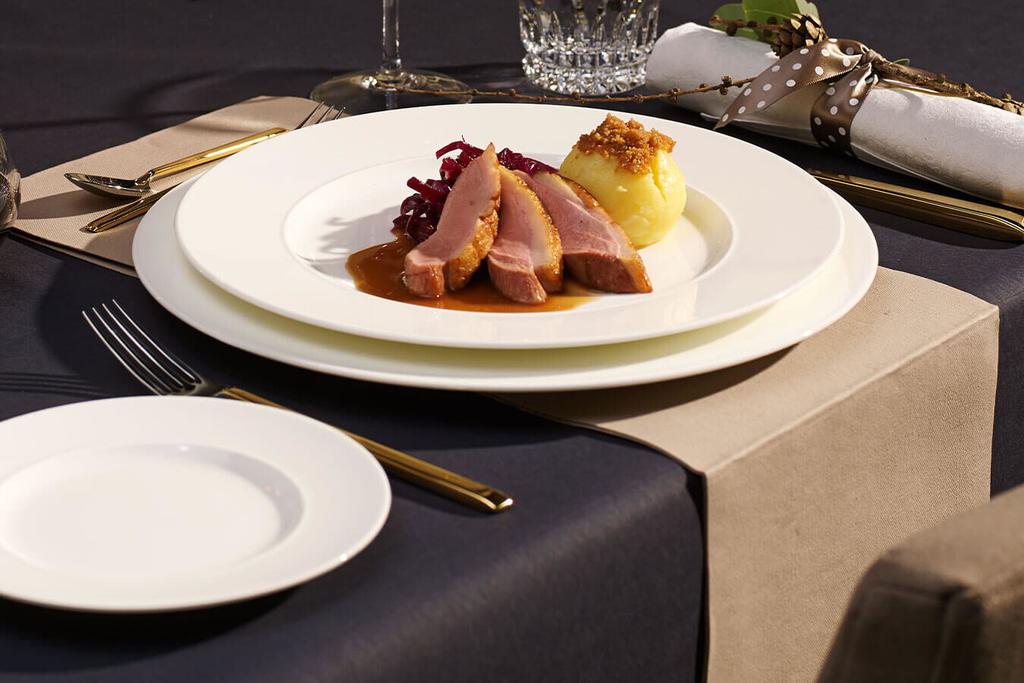 Dining accessories
Plates, cutlery, pans, glasses and everything you need for the best banquet. We work with world-renowned suppliers and manufacturers with a long tradition.
The premium brand Villeroy & Boch has been producing high-quality porcelain since 1748, making it one of the longest established brands in Europe.
Whether it's porcelain, glasses or cutlery, Villeroy & Boch has combined its expertise to create the best tableware.
The result is the finest quality porcelain made in Germany.
The glasses are made of crystal glass to enhance the place setting on your dining table.
Water, served with every meal and with every espresso, in a wide range of water glasses that can also be used as juice glasses. Thanks to the charming patterns of the individual collections, the water and juice glasses also mix beautifully at festive dinners with matching red and white wine glasses.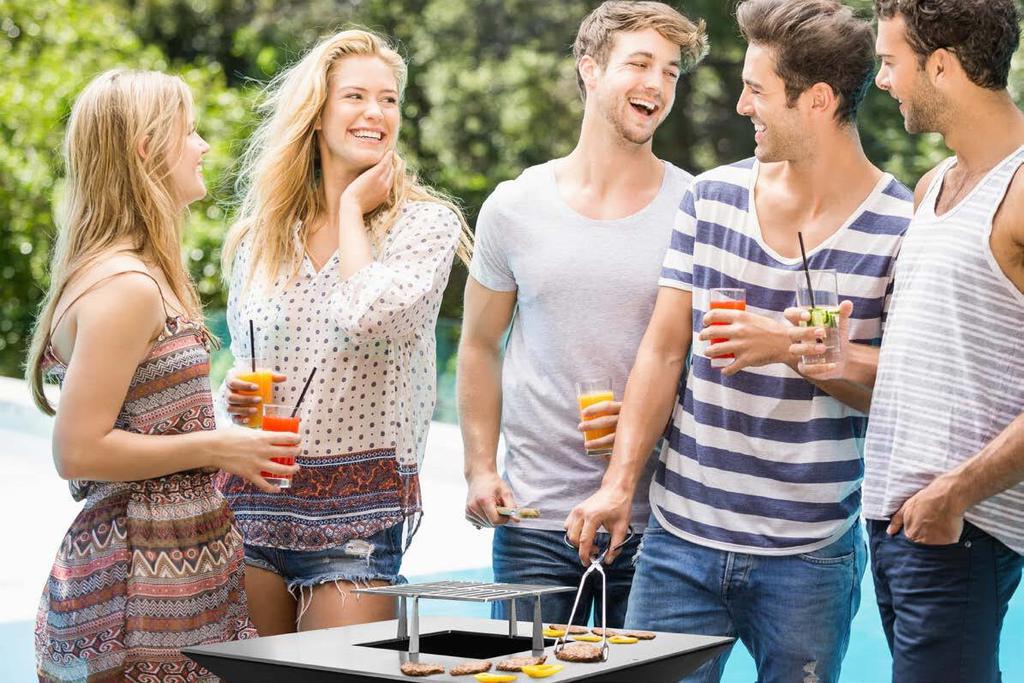 Garden barbeque
Barbecues made of steel. The upper part consists of a stainless steel plate for food use on which you can easily cook excellent meat, tasty vegetables and much more directly, without the use of added fats.
In addition to the griddle, it is also possible to cook twice using the grill.
This will allow you to cook multiple dishes and multiple types of food at the same time.
Furthermore, for the most demanding cooks it is available the Corten steel version: the main feature of this type of steel is the ability to resist corrosion resulting from atmospheric agents (rain, snow, sun, hail) and from cooking thanks to a protective patina that does not change over time.
This protective patina gives the steel particular aesthetic characteristics, which makes the barbecue unique.
Corten is a sustainable material due to its durability, limited maintenance, and its unlimited possibility of being recycled, keeping any properties unchanged, in full respect of the environment.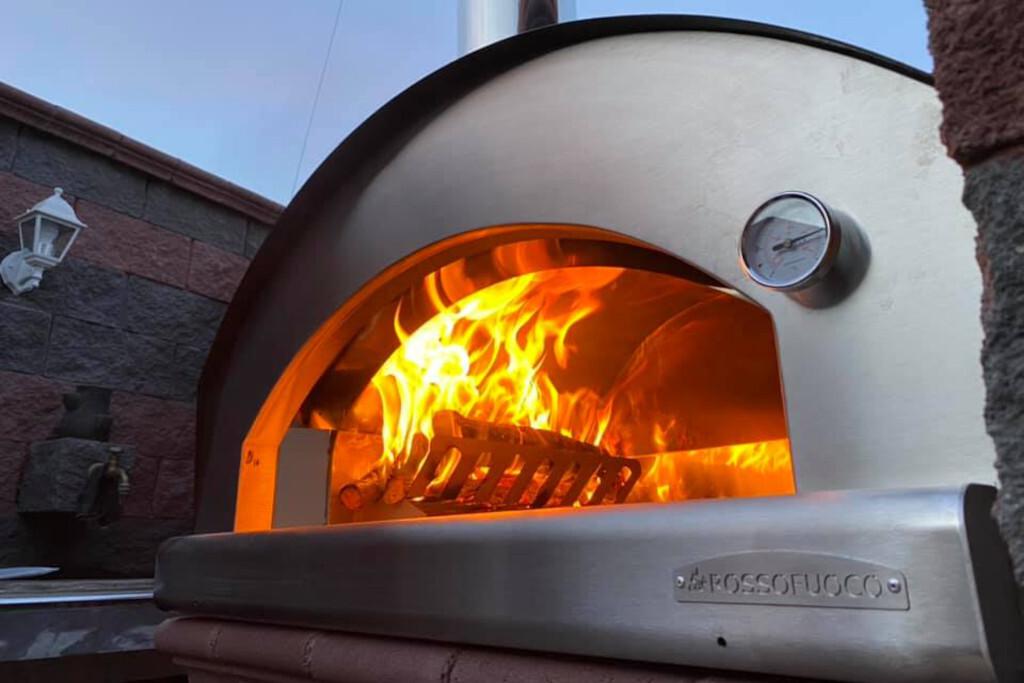 Wood burning ovens
The distinctive feature of a Rossofuoco wood burning oven is its "separated combustion system" developed by high-qualified professionals and technicians. This system is a feature of each of Rossofuoco dual chamber ovens. It preserves the flavor of your food all while providing an exclusive heat circulating system making the products easy and safe to use above all for the temperature control and during the ignition.
For the lovers of tradition Rossofuoco produces also direct wood burning ovens and BBQ fuelled with wood and charcoal. Each model is accompanied by accessories and components taking care to details and with a great range of spare parts.
Today modern wood ovens give everyone the chance to rediscover those traditional flavours in a very simple way.
From wood-fired flavour to gas-powered consistency to electrified convenience, you can use our portable pizza ovens in the kitchen, backyard or beyond.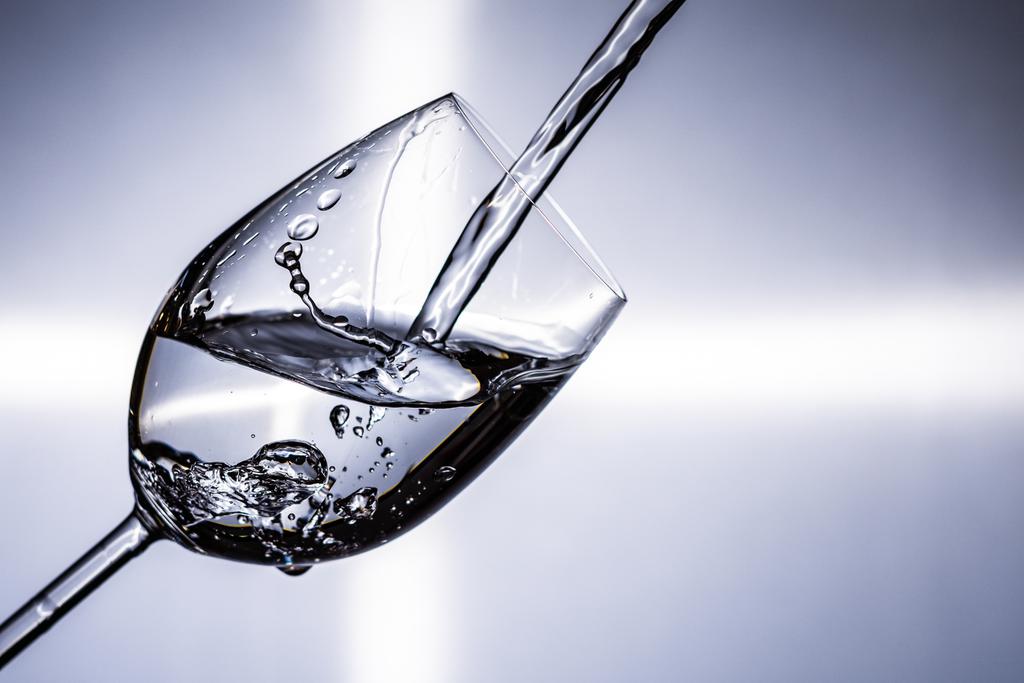 Water treatment
Tap water is good and safe, subject to numerous, continuous and strict controls. The disinfection to which it must be subjected in order to guarantee its microbiological quality can modify its organoleptic characteristics (smell and taste) and, in addition, the water often travels through kilometers of pipes and this can mean that mains water, even if it fully complies with the drinking water parameters imposed by law, can sometimes be unpleasant to taste or smell or "to the eye" due to the presence of solid particles in suspension (works on the network, old pipes of one's own domestic network...).
Our systems make it possible to remedy precisely this, that is, to "refine" and improve the water, changing its organoleptic characteristics, cooling it and perhaps even adding carbon dioxide (carbonation). Treating and filtering water certainly does not mean making it potable, but improving it to make it palatable.
Water dispensers, connected to the mains, that instantly provide cold, sparkling and natural water, combined with the most suitable filtration system, guarantee better water quality and savings for every use: domestic, office, professional (Ho.Re.Ca.) and others.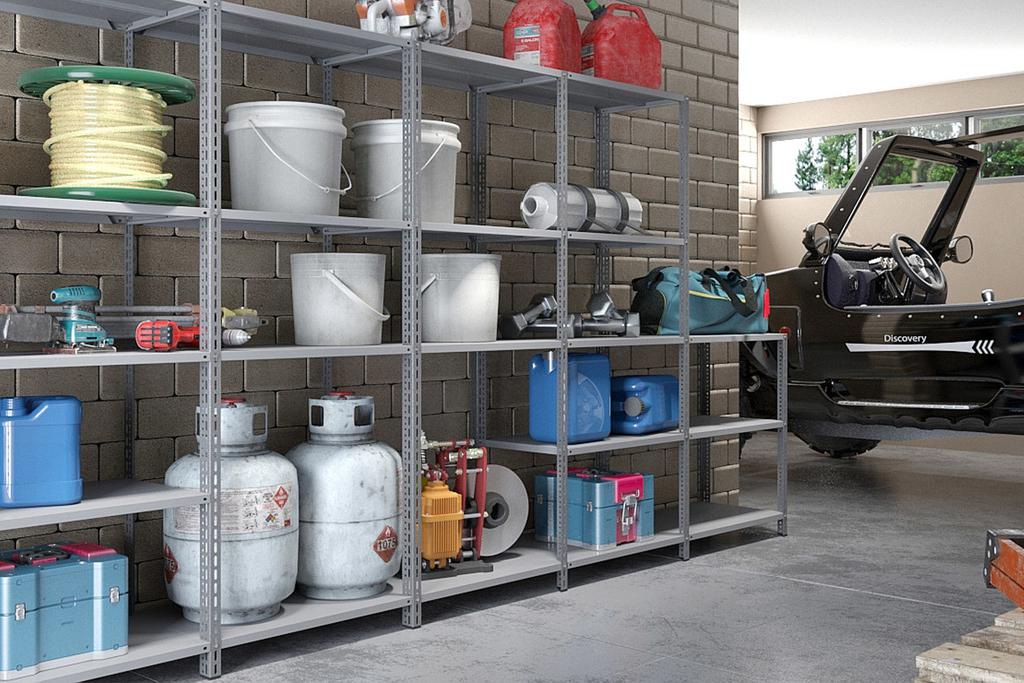 Shelving
Simplex is the perfect shelving system for the storage of small and medium sized products (standard sizes up to 1270×800 mm). The structure is modular thanks to click-in shelves, so it is totally free of screws and bolts. The practical click-in assembly system of the shelves makes initial mounting and any subsequent reconfigurations very easy: the upright is in fact built with the hook (flap) already integrated. This means that it is already ready for the insertion of shelves, without the need for additional hooks that might get lost.
Available in various sizes, Simplex is extremely versatile and fully customizable, thanks to the wide range of accessories that allow you to make the most of the capacity of any type of warehouse.
This shelving system brings together solidity, robustness and aesthetics, with pleasant designs which are also suitable for use in spaces open to the public. The final protective coating is also available in a wide variety of colours.